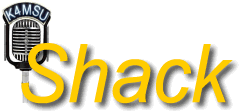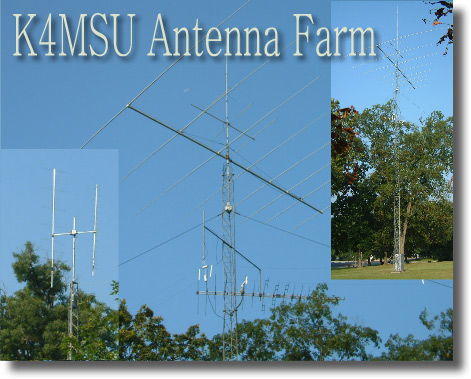 When MSUARC was established in 1960 the original purpose was to provide a place on campus that student hams could operate without the hazards of setting up equipment and antennas in their dorms. Now-a-days, modern radios are smaller and safer than the high-voltage tube-type gear of those days, of course; but a central station to which many resources can be focused can be much more effective and fun to operate. This is particularly true in regards to the antenna system. MSUARC is fortunate that Murray State University continues to support safe and effective student ham radio experiences by providing space in the Radio Lab of the Industrial and Engineering Technology Department for a modern ham-radio station. This Lab "our Radio Shack" is located in room 235 of the Collins Center for Industry & Technology (commonly referred to as the I&T Building).
There are other reasons Murray State University provides this Lab facility. The Lab provides valuable experience for students of communications technology as they work with radio equipment and experience radio-wave propagation. Furthermore, the I&T Building including the Radio Lab is designated as backup EOC (Emergency Operations Center) for Calloway County. In particular, the I&T Building is designed to be earthquake-resistant, so in the event of that situation is expected to provide communications with the state capitol for emergency relief.

The K4MSU MSUARC station sports a fantastic M2 log-periodic HF beam antenna. A B&W broadband dipole is also used for the lower HF bands. Antennas are also installed for 6 meters and 2 meters. A satellite station is under construction, with steerable yagis for 144MHz and 440MHz in the air.

Installed equipment in the station includes a Yaesu FT-840 HF transceiver; Yaesu FT-620 6 meter SSB transceiver; Kenwood TM-221 2 meter FM transceiver; a Heath SB-200 HF linear amplifier; and for classic-gear lovers, a complete Collins "S-line" and other older equipment. A computer is available for HF data modes.

The K4MSU station is available for general use by MSUARC members. Full Members (licensed students and other persons associated with the university) may be issued a key to the station. Those wishing to do so can apply to the our club Advisor, John Hart, KO4ZE. Associate members may operate the station with the escort of a Full Member. Before operating any equipment, you should be checked out on its use and on proper logging procedures by KO4ZE or by the station Trustee, Bill Call, KJ4W.

A workbench with some test equipment is being installed in the Radio Lab. Policies for use of this facility are yet to be developed.

The Radio Lab also houses the K4MSU Packet-radio Bulletin-Board system. The PBBS operates on 145.010MHz.

In addition to equipment in the Radio Lab station, the MSUARC also has a second Yaesu FT-840 transceiver and other gear available for portable use. The portable gear is used for Field Day activities and also available for emergency-communications needs.
MSUARC Repeater Operations
The 146.94/34 K4MSU repeater
Left: The .94/34 K4MSU antenna: High atop the Price Doyle Fine Arts building on the MSU campus, at roughly 200 feet above average terrain. Right: The .94/34 repeater cabinet and (duplexer cabinet to its right). These reside in the elevator machine room known as the Price Doyle "Penthouse". Here we enjoy the benefits e-Power back up.
Left and right: The open .94/34 cabinet. Lots of goodies in here. Only Bill, KJ4W knows how this thing ticks. Maybe we can get an outline of the components in here from him one day.

Below: The home brew .94/34 duplexers.
The MSUARC Digipeaters
| | | |
| --- | --- | --- |
| Our APRS digi on 144.390 MHz and sporting the KPC-3+ gives us wide n-n capabilities. This was the temporary transceiver (the Kenwood from the Radio Lab). We now have a dedicated transceiver for this installation, which is in Allen Fowler's (KD4JME) shop next to WKMS. | | Our old KO4ZE-1, the MURRAY Digi; a TAPR TNC-2 and Uniden commercial transceiver. This is off the air right now pending relocation to our new site atop Regents hall on the campus of MSU. |

The old 145.01 digi antenna on Price Doyle now being used for APRS on 144.390 MHz.
Can't understand why we would ever have trouble with intermod...
Note: Above photos (and nearly all of the work on these systems) by Bill Call, KJ4W
© Copyright 2003, Murray State University Amateur Radio Club. All Rights Reserved.