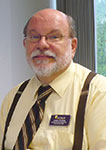 John Young
Center for Telecommunications Systems Management
years at MSU: 12

The candidate was presented with the following questions. The responses are printed as received and have not been edited by Staff Congress.

1. Why would you like to serve on Staff Congress?
I believe that serving on Staff Congress is an opportunity to voice the concerns of each member of the staff to administration and to convey back to members of the staff what is happening on campus and the reasons why.

2. What would you like to tell us about yourself?
I have been employed at Murray State in the Center for TSM for 12 years. I have served on Staff Congress the past three years, this last year as Vice-President. In that capacity I have represented staff views at the Faculty Staff Leadership committee meetings with Dr. Dunn and have represented the Staff Congress at the International Studies Advisory committee meetings. As a member of the Staff Congress, I have served on the Staff Events Committee, the Sick Bank Leave Appeals Committee and have also served on the Credentials and Elections Committee.