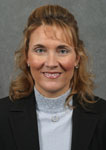 Gina Winchester
Office of Regional Outreach
years at MSU: 20

The candidate was presented with the following questions. The responses are printed as received and have not been edited by Staff Congress.

1. Why would you like to serve on Staff Congress?
Having served on Staff Congress for over 15 years and completed one term as Staff Regent, I recognize the value of shared governance on Murray State's campus. Also, having served as Staff Congress President for the past two years and a member of numerous university committees, I am proud of the work being done and would like to continue that service to the staff by representing the Executive/Managerial/Professional level for another three year term.

2. What would you like to tell us about yourself?
As a native of Murray, KY, I have been a member of the Racer Nation since enrolling in the Fall 0f 1982. Having earned two degrees from MSU, a BS in Business Administration and MS in Organizational Communication, I have been privileged to use that education over the past 20 years in three very different positions: Administrative Assistant to the Dean of the College of Science, Engineering & Technology, Assistant Director/Coop Coordinator in Career Services and Executive Director of a newly created Office of Regional Outreach. I also enjoy teaching as an adjunct instructor in the Youth & Nonprofit leadership program. In addition to my involvement with many university programs, I also serve on several local, regional and state organizations and recently completed the leadership Kentucky Class of 2011.