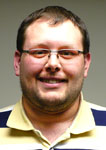 Daniel Williams
Facilities Management
years at MSU: 1

The candidate was presented with the following questions. The responses are printed as received and have not been edited by Staff Congress.

1. Why would you like to serve on Staff Congress?
I would like to serve on Staff Congress so that I may speak for my fellow staff members and make sure that all the voices are heard. In my many years here at the University first as a student and now as a staff member, I have come across lots of people that had excellent opinions. I am good at listening, collecting peoples' opinions, and helping to craft them into ideas and responses to changes that may be coming up. I also believe that I communicate things forward well, and will help make sure that the staff members I interact with will get their information in a timely manner. Due to many personal and professional experiences that I have had, I also understand the concerns of the office / professional staff and the hourly staff that I would be representing.

2. What would you like to tell us about yourself?
I started as a student at Murray State in 2002, coming for the Commonwealth Honors Academy summer program. I began my freshman year in August of 2003, studying computer science in the College of Business. While a student, I worked 12-20 hours a week for different departments in the College of Business, working as a student technician, a lab assistant for CSC 199, and an office assistant. After graduation in 2007 and 3 years away, I returned to MSU in 2010 to work in Facilities Management where I have been since. I am currently the Systems Administrator and Technology Coordinator for FM, assisting our 200 employees with their technology needs.