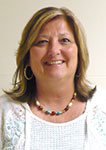 Sheri Riddle
Center for Teaching. Learning and Technology
years at MSU: 14.5

The candidate was presented with the following questions. The responses are printed as received and have not been edited by Staff Congress.

1. Why would you like to serve on Staff Congress?
I have been on Staff Congress for several years and would like to continue being a part of this group helping to make MSU a better place to work. I was part of the committee that worked to make parking permits free to those with 20 years service. I am on the Insurance and Benefits committee that worked to open Healther Services to employees. I also enjoy the times when Staff Congress members come together to sponsor events like the Children's Christmas Party and the Staff Recognition luncheon.

2. What would you like to tell us about yourself?
In my 14+ years at Murray, I have worked in Athletics, the Registrar's office, and Information Systems. My job now at CTLT allows me to work with both students and faculty/staff. I like being able to help others, whether it's someone having trouble with their Blackboard or someone needing access to their email or myGate accounts.


At home, I enjoy spending time with my grandchildren and traveling. Recently, my husband and I bought a camper and are very much enjoying camping.