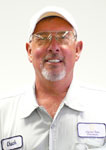 Chuck Plummer
Facilities Management
years at MSU: 6

The candidate was presented with the following questions. The responses are printed as received and have not been edited by Staff Congress.

1. Why would you like to serve on Staff Congress?
I have been serving for 3 years and would like to continue my service to do what I can for the good of our staff and the university. The sub committee I serve on is in the process of trying to improve communication between MSU employees and MSU management, and I would like to continue doing this.

2. What would you like to tell us about yourself?
I am 61 years of age. I am the father of two, both males age 39 and 35. I am a grandfather of 5 (3 girls and 2 boys). My wife of 16 years Debbie Plummer is administrative assistant to the biology dept. and also a staff congress representive. I work for the grounds dept. of F/M since 2005.