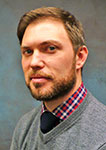 Evan O'Neal
Adventures in Math and Science
years at MSU: 1

The candidate was presented with the following questions. The responses are printed as received and have not been edited by Staff Congress.

1. Why would you like to serve on Staff Congress?
I believe a place of work is only as good as the ones who make up the organization. With this view, I see anything like a Staff Congress as necessary in any worthwhile organization. This personal philosophy puts me in a position to rightfully, honestly, and objectively represent staff members here at Murray State.

2. What would you like to tell us about yourself?
I am a 3rd Generation Racer originally from Calvert City, KY. I began my Undergraduate studies in Technology Education here at MSU in 2006 and graduated in December of 2009. In May of 2010 I became one of two Program Coordinators for the Adventures in Math and Science program. I have just begun studying for a Master's Degree in Information Systems although I have taken graduate level courses in Political Science, Nonprofit Leadership, and Student Affairs in Higher Education.

My wife and I, who is also a full-time employee at MSU, bought our first house here in Murray back in September of last year. When not working on the house I enjoy writing/producing/performing music, keeping up with the tech world, and of course spending time with my wonderful family.