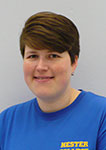 Ann Matheny
Community College
years at MSU: 4

The candidate was presented with the following questions. The responses are printed as received and have not been edited by Staff Congress.

1. Why would you like to serve on Staff Congress?
I would like to serve on Staff Congress because I feel it would be a great way to become directly involved with matters affecting staff on campus. I believe that Staff Congress plays an integral role within the University and I would feel it a privilege to act as a voice for fellow employees.

2. What would you like to tell us about yourself?
I have been employed on campus for five years, working as an administrative assistant for the Community College. I have been married to my husband James for eight years and we have daughter, Ellie and a miniature schnauzer named Gunther. I am presently pursuing my Master's Degree and in my spare time enjoy family activities, photography, gardening and crafts.