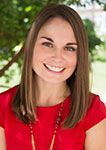 Dana Howard
University Communications
years at MSU: 6

The candidate was presented with the following questions. The responses are printed as received and have not been edited by Staff Congress.

1. Why would you like to serve on Staff Congress?
I enjoyed my time on staff congress so far and would like the opportunity to continue serving my fellow staff.

2. What would you like to tell us about yourself?
Enjoying working in communications and very proud to be a Racer through and through. This university means a lot to me and I enjoy being part of a university community that works together and continues to stay positive through good and bad.