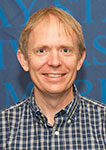 Orville Herndon
Journalism & Mass Communications
years at MSU: 20

The candidate was presented with the following questions. The responses are printed as received and have not been edited by Staff Congress.

1. Why would you like to serve on Staff Congress?
I am seeking reelection because I enjoy helping make Murray State a better place to work. Over the years, I've had the opportunity to be a part of many efforts to improve employee compensation and benefits. I hope to continue that work for another three years. I represent you. Please let me know what employee-related issues are important to you. I can be reached at 809-4491 or oherndon@murraystate.edu.

2. What would you like to tell us about yourself?
I have served on Staff Congress since 1994. Currently I chair Staff Congress' credentials and elections committee and serve on the personnel policy and benefits committee. I am the parliamentarian on Staff Congress. I have served as the group's president, vice president and treasurer in the past. I am a member of the University's Faculty and Staff Insurance and Benefits Committee. I also serve on the I & B committee's Family Friendly Task Force. I am the publications systems manager for the Department of Journalism and Mass Communications. I have received two degrees from Murray State: Bachelor of Science in Business with an area in accounting, 1986, and the Master's in Business Administration, 1988. Prior to joining the staff at Murray State I was an accountant for the Farm Store Inc. in Cadiz. I also operate a media technology consulting service.