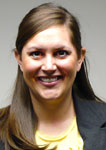 Abby Hensley
Development
years at MSU: 4.5

The candidate was presented with the following questions. The responses are printed as received and have not been edited by Staff Congress.

1. Why would you like to serve on Staff Congress?
As far back as junior and senior high school, I was actively involved in local, regional, and state student organizations whose main goal was to improve the school. I found great satisfaction in being a part of those forces of change. Now, as I think of the many great opportunities Murray State University has given me, I find myself searching for ways in which I can repay to be more actively involved in. Being a part of Staff Congress will expand my knowledge base and give me meaningful opportunities to further enhance the wonderful place that is MSU.

2. What would you like to tell us about yourself?
I have been a part of the MSU community for over nine years. I received both my bachelor and master's degrees here. While attending MSU as a student, I served as a Student Ambassador for four years and on the I-Racer Sports Marketing Team for three years. I worked in the Office of Recruitment for two years before accepting my current position as Assistant Director of Annual Giving in the Office of Development in November, 2009. In addition to those job responsibilities, I have also taught one section of COM 161 as well as two sections of the FYE 099 class. As I interact with current students as well as alumni, I learn more about MSU and continue to strive to share with others the positive value of an MSU educational experience.