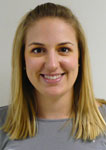 Amber Harris
Center for Telecommunications Systems Management
years at MSU: 2

The candidate was presented with the following questions. The responses are printed as received and have not been edited by Staff Congress.

1. Why would you like to serve on Staff Congress?
I would like to become a member of Staff Congress because I would like to become more involved with the university. Staff Congress not only makes important decisions on behalf of the employees but also is a support system and encourages collaboration among all departments on-campus. I would love to work with and get to know other staff members across campus while helping make a difference.

2. What would you like to tell us about yourself?
I was born and raised in Murray, KY. I graduated with a Bachelors of Science in Business in December 2009. I have worked at Murray State University since I was a freshman at this institution. During my years as an undergrad I had the opportunity to work in several offices across campus including, the Transportation Office, Office of Recruitment, and Career Services. For the past two years I have been the PR and Marketing Coordinator in the Center for Telecommunications Systems Management Office. I am married and have a beautiful little girl. I spend most of my free time with my family, at the gym, or working on my MBA.