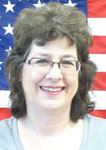 Joanne G. Farley
Gov't, Law & Int'l Affairs
years at MSU: 7

The candidate was presented with the following questions. The responses are printed as received and have not been edited by Staff Congress.

1. Why would you like to serve on Staff Congress?
I would like to be more involved in the university administration and represent my fellow MSU employees.

2. What would you like to tell us about yourself?
I have a BS in Organizational Communications from MSU with a minor in Business Administration and graduated in 2010. My experience includes working for KIIS 2003-2009 and currently with GLIA since Jan. 2011. I have also put my daughter through MSU so I know about being a student, a parent of a student and an employee at MSU.