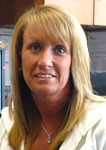 Liz Fain
Facilities Design & Construction
years at MSU: 14.5

The candidate was presented with the following questions. The responses are printed as received and have not been edited by Staff Congress.

1. Why would you like to serve on Staff Congress?
I have been serving on staff of Congress for the past year and would like to continue this service. I have enjoyed meeting and working with new people and learning more about our University.

2. What would you like to tell us about yourself?