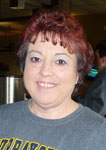 Lisa Winchester
Dining Services
years at MSU: 12
Have you served on Staff Congress before? Yes
If so, how long did you serve?don't remember


The candidate was presented with the following questions. The responses are printed as received and have not been edited by Staff Congress.

1. Why would you like to serve on Staff Congress?
To better help people in my department.


2. Please list work experience and community involvement.
Worked at MSU first time starting in 1986-left for 2/3 years then returned and plan on staying. Relay for Life


Lisa is a candidate in the General/Facilities Management category.