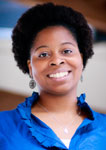 Jessica Evans
Applied Health Sciences
years at MSU: 3
Have you served on Staff Congress before? No
If so, how long did you serve?


The candidate was presented with the following questions. The responses are printed as received and have not been edited by Staff Congress.

1. Why would you like to serve on Staff Congress?
My decision to run for a position on staff congress is based in my desire to further be of service to the Murray State community. If elected, I hope to embody a strong leadership role within the organization and support strategic objectives aimed at improving staff moral and efficacy. Staff are an integral part of MSU's daily operations and it is my belief that by reaching out to other MSU staff members to gain perspective on their concerns, university efficiency and overall staff contentment can be greatly improved. I am strongly committed to the idea of unified leadership working in the hopes of increasing staff contributions and and believe that staff can help foster positive change within university structure. I would be grateful to have the opportunity to contribute my knowledge and leadership skills and would encourage other staff members to become involved with key initiatives for promoting a healthy future for the university.


2. Please list work experience and community involvement.
I have had the privilege of working with many colleagues in various capacities while at MSU. During my time here, I have served on several search committees, worked as a member of the Budget Planning and Review Team, and served on the President's Commission for Student Retention. I have also had the opportunity to work with members of other organizations outside the university both a locally and nationally. I am looking forward to opportunities to now move to into serving the University beyond a departmental level.


Jessica is a candidate in the Secretarial/Clerical category.