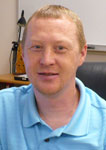 Dwaine Willoughby
CSET
years at MSU: 16
Have you served on Staff Congress before? Yes
If so, how long did you serve?2 years


The candidate was presented with the following questions. The responses are printed as received and have not been edited by Staff Congress.

1. Why would you like to serve on Staff Congress?
It has been a privilege and honor to serve and represent you on staff congress. I believe With all the events that have taken place over last few weeks. That it very important that Staff congress comes together as solid unit and unite with Faculty senate and make a strong representation for the employees of this University. I ask for your vote and allow me to continue and support all our concerns that may arise here at Murray State.


2. Please list work experience and community involvement.
I have been Computer Systems Coordinator for 16 years


Dwaine is a candidate in the At-Large category.