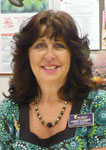 Debbie Plummer
Biological Sciences
years at MSU: 10
Have you served on Staff Congress before? Yes
If so, how long did you serve?9 years


The candidate was presented with the following questions. The responses are printed as received and have not been edited by Staff Congress.

1. Why would you like to serve on Staff Congress?
I have served three complete terms on Staff Congress since returning to Murray State. I have also served on Staff Congress during my previous employment at MSU 1985-1996. I am chair of the Marie Jones Textbook Scholarship. I serve on several committees: Personnel Policies/Benefits and the University wide committees: Faculty/Staff Insurance & Benefits which I am on several sub committees.


2. Please list work experience and community involvement.
I am currently serving as the treasurer of Staff Congress. I have worked in the Biological Sciences for ten years. I love working on Staff Congress. I think it is important that staff have a voice, and if I can help bring that voice to Staff Congress it makes me feel good a working here at MSU. So I would appreciate your vote.


Debbie is a candidate in the Secretarial/Clerical category.