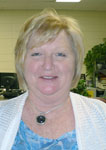 Debbie Griffin
Housing Office
years at MSU: 8
Have you served on Staff Congress before? No
If so, how long did you serve?


The candidate was presented with the following questions. The responses are printed as received and have not been edited by Staff Congress.

1. Why would you like to serve on Staff Congress?
I just like to stay informed and help bring to our work place things that could help my fellow co-workers and myself. One of ways I could help my co-workers would be by being there to listen to there opinions and then express them to there advantages and I just like helping others also. I think it is important to be a part of all things in the work place just not do your job and go home with no worries. I am 57 years old born and raised here and not going anywhere.


2. Please list work experience and community involvement.
I have worked at the Housing Office for 8 years 3 which was a temporary with no benefits. I worked in Calloway County School system for 7 years as an instructional aid. I worked in the community as a Cosmetologist for 35 years and have a lot of experience with people and students in the many facets of my life from family to my work environments. I have raised two daughters in this community and have been involved in all aspects of their lives from girl scouts to athletic.I will continue this involvement with my two grandson. My oldest daughter is a RN at Murray Calloway County Hospital delivering babies everyday into this community, My youngest daughter is a financial consultant at a Cadillac dealership in Houma, LA. I am very proud of both of them and there degrees. The youngest degree being from MSU. The oldest from PCC wihich is a part of Murray State also.


Debbie is a candidate in the Secretarial/Clerical category.