Campus Announcements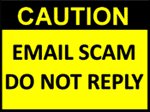 EMAIL SCAM ALERT
Murray State email users are reporting receiving several different types of emails advertising job opportunities, (personal assistants needed, work from home, etc). These emails appear to come from @murraystate.edu email addresses, but when replying, the reply-to address shows a different, non-Murray State email address. These emails are scams and should be deleted immediately. If you question the validity of an email, contact the MSU Service Desk at 270-809-2346.
Scheduled Power Outages
The campus community is advised that due to necessary maintenance and preventative repairs and upon the advice of our electrical consultants, a portion of the Murray State campus will be without power on Thursday, October 6, and Friday, October 7, during the University's fall break. Information on which buildlings will be affected can be found online. Another outage is scheduled for Thanksgiving, with information becoming available over the next few months.
Tech Talk with TSCS: An Invitation for Faculty and Staff
Technology Support and Consulting Services will begin holding an open office hour starting on September 6th to answer any questions for faculty and staff about any of the technologies supported on campus. TSCS staff will be available to answer questions regarding Canvas, Google, Tegrity, TurnItIn, Collaborate, Respondus, Survey Monkey, racerVision, Akindi, etc. Come by our office on 3rd floor North Applied Science any morning after 8am and chat with us on any technology topic.