FRE 102 - REVISION DE FIN DE SEMESTRE
ORAL PROFICIENCY INTERVIEW
French 102
Spring 2000
Oral Proficiency Exam
1.You need to sign up for this exam. As time is very short during the end of the
semester, try your best to be on time for your appointment. It may be hard to
re-schedule.
2.This is what you have been preparing for all year. You are not expected to
study. It might be useful to review the vocabulary from all the lessons,
beginning with chapter one
3.This oral test is worth 5% of your course grade. Questions or topics will be
provided in English. You must answer in French. Be prepared to speak for 2
minutes without prompting.
EXAMEN ORAL - Pouvez-vous________________?

faire des portraits des gens
parler de votre famille
discuter des logements; des vêtements
parler du marché, des repas
parler des tâches à la maison,
parler de votre emploi du temps (schedule)
poser des questions sur les activités de loisir; les sports; les vacances
ATTN: Il faut parler au Présent, au Passé (passe compose !)ET au Futur (ou futur proche:aller +infinitif); le conditionel pour être poli(e)
***************************************************************
Your final exam will be composed of: PROFICIENCY tests in:
Listening, Writing & Reading
A comprehensive written test
EXAMEN ECRIT -(test 5% of course grade)
Revoir:
verbes (réguliers, irréguliers ET pronominaux; Gp I, II, III, etc.; présent, passé composé et imparfait; futur et conditionnel)
noms (vocabulaire des ATTN: MASC et FEM)
adjectifs ( " ), (MASC/FEM,; SINGULIER/PLURIEL)
adverbes ( " )
articles (définis le;la;les/ indéfinis un, une,des/ET partitifs de la, du, des)
négatif (ne..pas/ ne..jamais)
possessif (mon, ma, mes/ notre/nos etc.)
nombres, heures
sujets de composition possible:

un portrait
votre vie ou la vie d'une autre personne
les activités (en général, les loisirs, le sport, à la maison, les voyages, les vacances)
le logement
les repas, les magasins
les courses (magasins, produits)
les repas
le calendrier et les événements
l'emploi du temps (how a person spends his/her day/week)
les vacances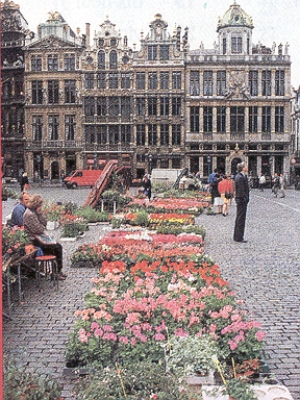 Bruxelles
Paris